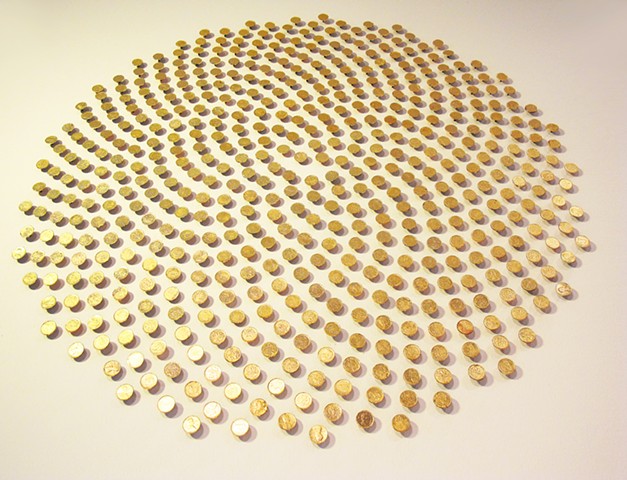 Bloom - 18K Gold Covered Penny Collection, 2020
Adam David Brown is a multidisciplinary artist living in Toronto, Canada. His work is frequently generated by his interest in science, language and the passage of Time.
Everything and Nothing at MKG127| Oct 20 - Nov 17, 2018*
UNBOUND at Two Rivers Gallery, Prince George B.C. (2019)
PLAY/GROUND Medina NY, Oct 11-14, 2018
Voices: Artists On Art at the Southern Alberta Art Gallery| 2018
Again and Again MKG127 10th Anniversary Exhibition | July 1 to August 12
Recent exhibitions include:
Out Of The Blue a solo exhibition at MKG127 (2016)
One Time or Another The Idea Exchange, Cambridge (2015)
Work was also included in these group exhibitions
In Some Far Place, The Rooms (2017)
Lunar Attractions, The Peabody Essex Museum, Salem, M.A (2016)
In/Future at Ontario Place (2016)
Many Things Brought From One Climate To Another at The AGO (2015)
For The Time Being MKG127, Toronto (2014)
Infinity Plus One MKG127, Toronto (2011).
Reading Room (Owens Art Gallery, Sackville, 2014)
We're In The Library (The Koffler, Toronto 2013)
More Than Two (The Powerplant, Toronto, 2013).
Adam David Brown is Represented by MKG127
Brown has exhibited his work in Canada, Europe, Central America and the United States and has been awarded The Canada Council of the Arts, The Ontario Arts Council and the Toronto Arts Council.
His work can be found in the collections of:
The Art Gallery Of Ontario, Bell Canada, TD Bank, The Bank of Montreal,
Cadillac Fairview, The Ivey School of Business, The Canadian Institute for Advanced Research, Logitech, Ryerson University as well as numerous private collections


Reviews